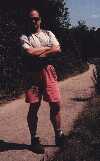 This is me (click the image to see a larger version). I made this picture in August 1996 putting my Yashica T4 (great tiny camera with Zeiss lenses) on a fence. Walking on Volkssport events is a hobby of mine. More information on IVV (Internationaler Volkssportverband) and DVV (Deutscher Volkssportverband) can be found on my "Wandern" pages (in german language). AVA is the American Volkssport Association and IVV is the worldwide umbrella orginasation.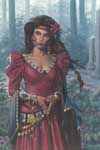 This is the woman of my dreams (click the image to see a larger version). If you are a woman looking like her, rich and romantic ... I´m poor and realistic. ;-))) Well...in fact I don´t care much about outward appearance. Can be white, black, yellow, red, green or blue. Long hair or short hair. I love tiny women, I love tall women. I love big boobs and I love tiny tits. Big butts - tiny butts. But I don´t like tired women (people). And - although the body´s shape doesn´t matter - I don´t like women with too much fat hanging around.

Physically, most of all I love kinda "strong" women. (Blaze from American Gladiators is more than a good example). So many women only manage householding and can´t even carry a sixpack! ;-)))


To be honest...this is my real love ;-) . Click the scooter for a larger pic and some information. Somehow it´s just the same as with the women above: I can´t afford it. ;-)



A webcam in Dortmund, Germany:
This camera is located about 10 kilometers from my home. So if you want to know how the weather is here in Dortmund or if it´s day or night ... click the link (updated every 5 minutes).

Free message-board:

Onecenter not only offers free message-boards, they even pay for them.

Some funstuff I collected:
Wanna see some real kiddie porn?
Two kids: both are naked, he´s on top, but they have some problems.
Here is a picture of a very young pussy. You can even see her pink.... .
A very hot blowjob without having sex.
Some call it sports - some call it sex.
Last not least: Animal sex!


search engines
All-in-One Search Page. On this page you can search for nearly everything. Web pages, email addresses, people´s homepages, databases etc. It´s really big - have a look.
Dogpile is a very good multi-search engine.
Deja is the most popular and comfortable usenet search engine. If you are looking for textfiles only, go there. If you are looking for binary files, you should go to
RemarQ. My favourite usenet search engine.
Bomis is no search engine but it offers hundreds of webrings and loads of links to categorized pages.

software
Shareware.com: Loads of shareware and freeware.
WinFiles.com: Windows shareware collection.
Windows95.com: They say "The best 32-bit Shareware, Drivers, Tips, and Information on the Internet!" It´s huge and I like it.

other stuff
BeSeen offers good webcounters, guestbooks and many more useful things you may need if you are a webmaster.
Net 54 offers free message boards. The installation takes less than five minutes and you can easily change the forum´s layout.
Netmind reminds you when a page´s contents changes by sending you an email. You have to submit the page´s URL and your email address and Netmind will check the page´s contents periodically. You can add input fields to your own pages that link directly to them using a pre-defined (your page´s) URL, so that the visitors only have to submit their email address. I used this service on my old pages, but now my pages are frame-based which makes it a little difficult: If Netmind checks a left (menue) frame it will only send a mail when this menue page changes. This won´t happen very often. So I will soon create one global "what´s new" page with this feature which will also offer a more detailed reminding (music, misc, wandern, diverses). I think this is the most user-friendly way to handle it.
SiteInspector: They say: "LinkExchange - SiteInspector Check your site's HTML design, load time, dead links, spelling, site popularity and search engine readiness with SiteInspector". Very informative and fast.
Bob Rankin´s Tourbus is a newsletter you recieve by email about twice a week. It deals with interesting things on the web and carries a little advertising on commercial stuff. You can unsubscribe anytime ... so check it out.

SEX - 3 linkpages is all you need:
The Hun´s Yellow Pages: Links mostly to picture pages. All listed pages are free of popup banners etc. .
Movie Mart: Links to movie pages. As it´s message forum, everyone can post there. Be careful: Some people link to spam pages and a few assholes even link to pages with Java popup bombs, means that when you enter the site or close the window, infinite new windows will be opened (Java only). Therefore check the replies or the replie´s topics. You will find links to other forums on the left side of the page.
Ultra Passwords: Links to password protected sites. Although some passes don´t work (as always) it´s a very good site. No popups, no useless Java stuff.